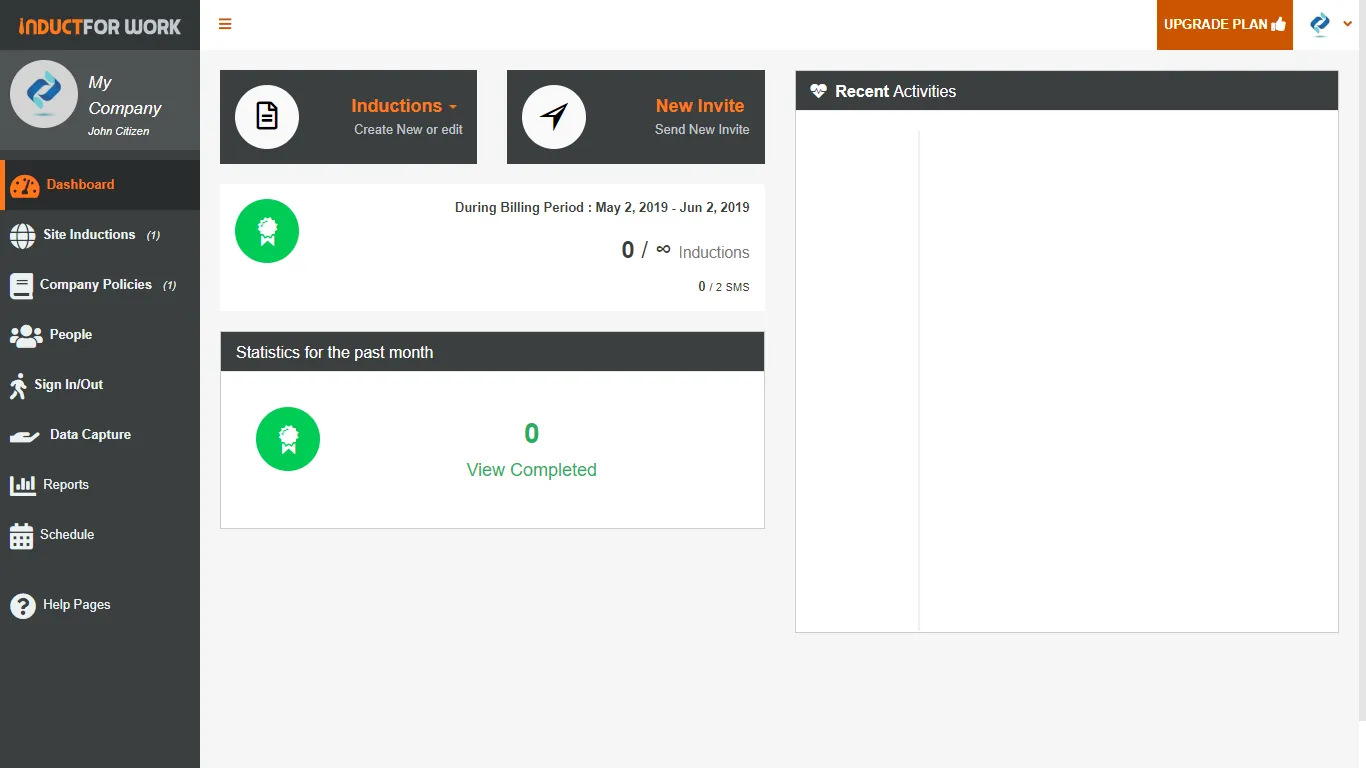 Induct For Work is a fully customisable Online Induction Software system that allows you to create, run and to monitor your own online inductions without being an IT professional. All you need is a web browser and an access to the net.
All accounts (except for our free standard plan) benefit from having an unlimited number of users and induction courses. You can induct 10 inductees one second and 10,000 the next. The platform is auto scalable and it will handle any number of users.
You can collect documents such as licences, insurances, certificates as part of any induction.
Document expiration monitoring system will send out auto-notifications to you, your admin and to your users, notifying of upcoming document expiration dates to assist you keeping all important documents up to date. Let's dive into it.
---
You've registered your account, excellent, now it has to be setup to your requirements. There are couple of options here.
Option 1.
Self setup – which we highly recommend. All tools are provided to create your own content, setup quizzes, turn various functionalities on or off. Once you are familiar with the system you'd be able to manage it without any hassles.
Option 2.
Our team sets up the account for you. You instruct us of what's required and we make it happen. We convert and upload your existing Powerpoint or Word inductions. We then setup quizzes, pass scores and we create multiple work-sites and admin users. We can also activate 'Sign In and Out' functionality and we can get your account integrated to thousands of other apps that may be used by your organisation.
Induct For Work is fully accessible and transparent. You can monitor your inductees progress at anytime and you can update your content.
Let's have a look at some basic functionalities.
You can edit your company information by clicking on your 'company name'.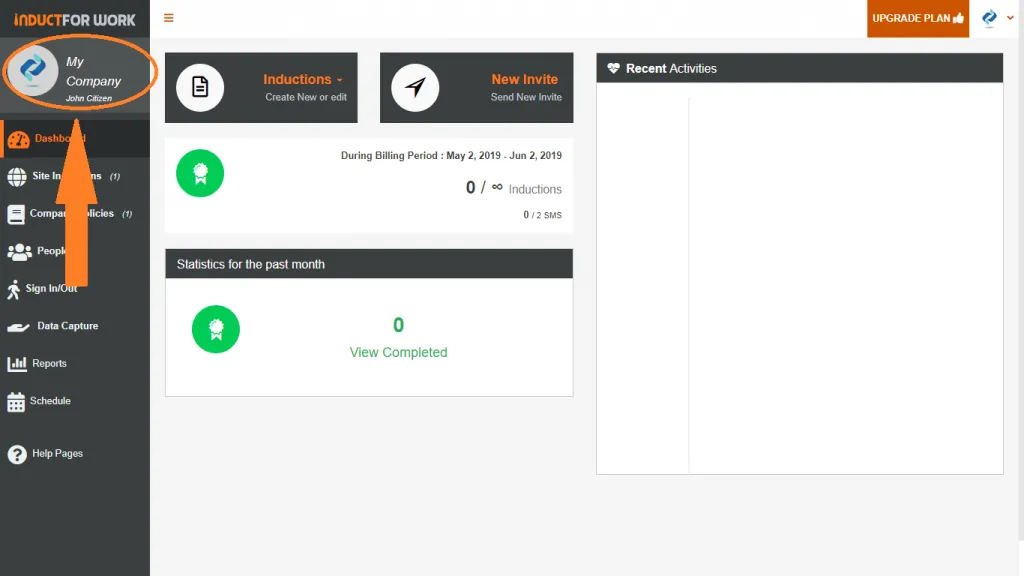 Here you can now upload a logo, set corporate colours, update company name, address and primary contact details. You can also change your own password and login email address.
By clicking your logo at the top right hand corner will open up a number of other options which we will cover in more details in other help pages.
You can create or edit inductions by clicking on 'Site Inductions'.
From here you can create additional worksites (which we call Portals), and you create and archive multiple induction courses.
You can also attach Company Policies to your account. These policies are shown to your inductees when they visit your Portal. To start creating your Policies click on 'Company Policies' then 'Create New'.
'People' area contains all users. When a person registers through a portal their profile appears in 'People' area. You can also manually create users one by one or import your existing list by clicking on 'Import' button. Search bar will assist you to pinpoint a user and all inductees profiles can be archived and restored.
'Sign In & Out' area displays all users who signed in and out of your worksite. This feature is an add on to any plan and it can be independently activated when required, for an additional monthly fee. This gives your inductees an ability to electronically sign in and out of your worksites using a QR code reader and Certificate numbers.
'Data Capture' functionality allows you to setup document collection from users during their induction. These documents may include and not limited to: insurances, licences and certificates. Multiple groups of documents can be created and attached to different inductions. We cover this functionality in more details in 'Data capture' help page.
'Reports' area lets you generate a customised report on any account activity. Select the report you are after, timeframe and then click on print.
Induction 'Schedule' allows you to automate sending invitations to a sequence of inductions. For example if your users need to go through an initial induction and then say in 1 week they need to complete a second induction, here we can create an induction schedule. What happens is when your users go through their first induction, the system generates an automated invite to their second induction in 1 week and emails it to your users.
'Help pages' are always here. If can not find any information you are looking for, please contact us.
In the next help page we are going to cover how to add logo to your account. Happy inducting!