How to get an ISO 9001 Certification in the UK
The business world is getting harsher by the minute, and companies strive to stay afloat by improving their products and services' quality. We know that keeping the loyalty of your customers is easier said than done, but the International Organization for Standardization (ISO) has an answer – the ISO-9001.
Also called the International Standard for Quality Management Systems (QMS), ISO 9001 is among the most trusted management frameworks globally. Take it from the United Kingdom's government itself! Even its sponsored organizations (e.g. UK Hydrographic Office) have secured a certification as a testament to their commitment to constant improvement.
Don't fret. No matter how big your company is, you can also join over a million organizations that have reaped the benefits of ISO 9001. Come and let this guide walk you through its basic principles and requirements to help you get started.
The ISO 9001 was designed to assist your company in meeting the needs of your stakeholders. High market expectations? Intimidating competition? This standard had set forth guidelines that seek the betterment of your facilities, training, services, equipment, and people.
ISO 9001 is inspired by seven quality management principles:
#1: Customer focus – At the core of quality management lies your need to meet customers' demands. By making the most out of every interaction, you must gain their trust and confidence to ensure sustainable success. What are their current needs? Would these change in the near future? If you want your company to survive, you have to keep on creating value for your market.
#2: Leadership – Your quality objectives will be fueled by your team leaders' unified direction. With this, you can be assured that the strategies, processes, policies, and resources of your company are consistently aligned towards one purpose.
#3: Engagement of people – From your top executives to your rank and file employees, it is important to keep your whole team engaged and empowered. Their level of skills and motivation will drive your organization's efficiency. By recognizing your people's value as individuals, you can better mobilize them into achieving your quality objectives.
#4: Process approach – Your team must understand how their daily tasks fit into a bigger picture. Let them understand that your QMS' success depends on an interrelated process where their performance is highly valuable.
#5: Improvement – Even if the annual report says you have the highest revenue and market share ever, there shouldn't be any room for complacency! Be on the lookout for new opportunities to boost your team's productivity and resilience even further.
#6: Evidence-based decision making – Cast out subjectivity from your thought process. Facts. Evidence. Trends. These should drive your decisions instead of guesses and personal insights. No matter how complex things could be, the uncertainty you eliminate with multiple data sources, types, and analytical methods is worth it!
#7: Relationship management – There are varied stakeholders that can make or break your company. Suppliers. Shareholders. Employees. Your job is to make sure that you have control over your network, and that you're capable of nurturing your relationship with them.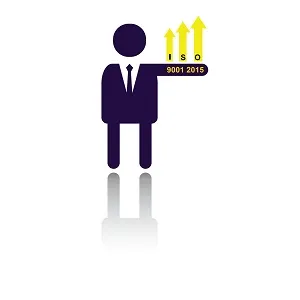 What are the benefits of being ISO 9001 certified?
Complying with ISO 9001's framework can provide value both for both your organization and your customers. Come and take a look at why companies all over the world exert time and effort just to get certified.
Organizational Benefits of ISO 9001
Get recognized internationally

– Aiming to penetrate international trade? Great news. ISO 9001 is recognized in about 188 countries!

Enhanced relationships with your partners

– Boost your network's confidence in what you do. ISO 9001 is capable of enhancing its holders' reputation and credibility.

Higher efficiency

– With ISO 9001, quality will be the primary focuses of your company processes and procedures.

Revenue boost

– An ISO 9001 certification can make you stand out from competitors. Close more deals alongside finding cost-saving opportunities.
Increased employee morale

– The framework gives importance on investing in your employees' well-being. Reduced errors. Increased productivity.

Polished record-keeping

– The certification process will require you to prepare documentation from start to finish. These then serve as a guide in handling process optimization and after-sales services.

Analytical decision-making processes

– No more second-guessing if you're making the right choice. You can now let facts speak on behalf of your insights, and leave no room for last-minute regrets.

Customer satisfaction

– ISO 9001 lets you establish a feedback system that can help answer key questions. What are their problems that remain unsolved? How can I reduce the number of returns and negative reviews?

Continuous improvement

– All these facts and trend analysis you get access to can make it easier to flag areas for improvement and possible opportunities for competitive advantage.
Consumer Benefits of ISO 9001
Improved product quality

– More colour variants? Fast shipping options? From the moment you design a product to the time it's delivered to your customer's doorstep, ISO 9001 lets you exhaust all processes to provide added value to your customers.

Lesser need for product returns

– Low durability of a key component? Got that. Packaging damage because of your courier? Noted and covered. ISO 9001 allows you to identify and address an issue way before it can damage a customer's experience.

Assistance in making a purchase decision – When customers find themselves at a position where choosing based on features is impossible, your certification can give you that extra brownie point to close that that sale. Let ISO 9001 be your proof that all manufacturer claims are true to actual customer benefits.
How can I get an ISO 9001 certification?
To help you understand ISO 9001 better, let's take a look at quick details on how its certification works:
The size of your organization doesn't matter! Regardless if you have a one-man team or a big boss with a million people under your care, ISO 9001's guidelines could be implemented and evaluated.

No industry has eternal dibs on ISO 9001. Restaurant? Manufacturing? Consultancy? The standards could be tailor-fitted to your type of business.

It's not meant to standardize products. Instead, it focuses on the processes behind your end output.
You have to note as well that ISO 9001 is not an elite group you can "join." Rather, you have to undergo its certification process.
Follow the steps to implementing a QMS and get a Certification Body (CB) to evaluate your company's performance. You basically have three goals:
Provide customers with consistent products and services that fit their needs

Pursue continuous improvement of your processes to enhance market satisfaction

Comply with all appropriate legal and regulatory requirements
Passing this audit will then grant you an ISO 9001 Certificate that's valid and renewable after three years.
What are the steps to implement an ISO 9001 quality management system?
If you'll read ISO 9001 in detail, you'll find a total of ten clauses that describe a "Plan-Do-Check-Act" system. However, let's focus more on its last seven sections that will be used by the auditor to assess if you're worthy of a certificate.
Step 1: Align business objectives with your QMS
Section 4 entitled "Context of the Organization" requires you to ensure that your QMS' purpose is aligned with your company's objectives. In this step, you'll have to identify internal and external issues concerning your business, the specific demands and expectations of your stakeholders, and your QMS' scope and the processes it covers.
The section will discuss the following in detail:
ISO 9001 framework's processes, procedures, and work instructions

QMS scope, along with its exclusions and requirements

Relevant parties to your organization

The fundamentals of a "process approach"



Step 2: Clarify your leadership team's responsibilities

Section 5 of the ISO 9001 focuses on your company's leadership. Ideally, your top management must set the bar for commitment, productivity, and efficiency. Their duties and responsibilities must be well defined, delegated, communicated, and understood.
To help you with that, count on section 5 to elaborate the following:
Your leadership team's responsibilities and commitment

The ideal quality policy your management must plan for
Step 3: Conduct a risk assessment
As prescribed in section 6, you are expected to determine how you will address organizational risks and opportunities. Moreover, your QMS must be able to withstand changes in your industry that may affect quality objectives.
To learn more about this step, you can read the following clauses under this section:
ISO 9001:2015 Risk Management

Planning to Achieve Quality Objectives
Step 4: Prepare resources and documentation essential to your QMS
Section 7 elaborates on the resources you need in implementing your QMS. This includes time and budget allocation for employee training which will ensure that your team remains competent and aware enough to follow the ISO 9001 framework. Moreover, this step enumerates the documented information that auditors will look into as support for your QMS activities.
ISO 9001 discusses this further with section 7's subtopics:
ISO 9001 Resource Management

ISO 9001:2015 Documented Information

Facing the Challenge of Documenting your ISO System
Step 5: Tweak your operational cycle according to your QMS
Section 8 entitled "Quality Management System Operations" prescribes you to lay down the planning and control procedures for meeting the expected quality of your products and services. This will cover the entire product cycle, including product design and development, procurement of resources for production, manufacturing activities, sales and delivery, and even processes involving your augmented products (e.g. warranties).
Be sure to check out ISO 9001's discussion of the following subtopics in section 8:
Control of External Providers

Identification and Traceability

Objects, Outputs, Products and Services
Step 6: Evaluate your QMS
You wouldn't want to wait for the external auditors to point out your QMS' flaws for you right? Look out for possible issues by planning for and conducting an internal audit. In this step, you'll have to look into your policies and procedures through monitoring, measuring, analyzing, and evaluating it alongside your QMS.
This is further discussed in Section 9: "Evaluating the Quality Management System's Performance" and its subtopics:
Customer Satisfaction

Effective Management Review

ISO 9001 Internal Audit
Step 7: Find ways to improve your QMS
Remember how ISO 9001 highlights continuous improvement? Step 7 lets you address that. With all the facts and insights you've gathered from the previous step, you have to identify specific areas for development, address discrepancies between the plan and results, and create a strategic action plan for your QMS' enhancement.
ISO 9001's section 10: "Improving the Quality Management System" elaborates this final step's importance through the following clauses:
Continual Improvement

Nonconformity and Corrective Action

What is Root Cause Analysis (RCA)?
How can Induct For Work help me get started?
Regardless of what type of business you are managing, getting an ISO 9001 certificate is no easy walk in the park. Its steps clearly demand a lot of programs and documentation that can be too much for your teams to handle.
Small to medium enterprises, with their limited funds and resources, will always hesitate to transfer employees' and executives' attention from their regular tasks. Meanwhile, larger companies will find traditional methods so inconvenient when handling large scale activities for ISO 9001 compliance. Even product and service-oriented companies alike still depend on inefficient manual processes to conduct after-sales functions (e.g. installation and maintenance assistance).
We're here to tell you that getting your QMS certified shouldn't be that hard. Allow us to introduce you to an online Learning Management System (LMS) that can help you get through all seven steps prescribed by the ISO 9001 in a breeze.
Induct For Work is an automated induction tool that has been trusted by many companies to help them design, conduct, and monitor online training and onboarding activities for their employees, contractors, and even customers. Improved operational performance? Decreased idle times? These are just a few of the many benefits our subscribers have sworn by.
Take a peek at how we can help you get an ISO 9001 in no time:
Customizable training modules

– ISO 9001 requires you to brief employees about your QMS and continuously invest in their skills. Our platform allows you to exhaust the most creative means (e.g. quizzes, video courses, audiobooks, etc.) to make that possible.
Consistent results

– Traditional face-to-face training often deliver inconsistent results, a mortal sin in ISO 9001. Count on us to give every inductee the same quality of modules even if they call the shots in completing it at their own pace.
Convenient documentation – Among the most challenging steps of ISO 9001 certification is documenting your QMS from start to finish, but we can assist you to reduce your workload. With its powerful features, tracking and reporting generation features (e.g. time logs, assessment score tracker, etc.), Induct For Work can quickly provide you a proof of compliance with the framework's requirements.